About 15 years ago, the advantages of Polyvinyl chloride were not very obvious. But it has been proved that its benefits apply to many areas and fields. There are many benefits of PVC commercial rolls. PVC has a good appearance and quality texture. It is suitable for all applications related to commercial buildings, schools, hospitals, gymnasiums, sports centers, shopping malls, hotels, etc.
PVC Commercial Roll
PVC commercial roll applies to various industries, such as hospitals, schools, offices, public transportation, supermarkets, etc. The material is made from polyvinyl chloride (PVC), a semi-crystalline thermoplastic polymer. PVC commercial roll finished products can be homogeneous or heterogeneous. Therefore, both materials have a lot of benefits.
The advantages of homogeneous and heterogeneous PVC roll flooring
The homogenous PVC roll flooring has good quality, and its cost is reasonable. Aside from these salient features, it has other advantages like
Good resistance to impact, wear and tear, and roughness
Good adhesion and easy installation
Easy to use and environmentally friendly – just put it on the ground and walk on it.
It is waterproof, fireproof, anti-corrosion, and anti-oxidation.
Good flexibility, toughness, and strength
Easy to maintain and enhanced noise reduction features
However, the heterogeneous PVC roll flooring has various colors and textures. This type of flooring includes designs in wood grain, marble, slate, granite, etc. The advantages of heterogeneous PVC roll flooring include
It is lightweight and easy to install.
It appears in natural material designs such as wood and stone, making it suitable for in so many applications in high-traffic areas.
It also has high impact resistance because of the several different layers in its composition.
With its high mechanical strength, heterogeneous PVC roll flooring will not wear out easily when laid on the ground.
It also requires less maintenance than other PVC floors because it doesn't absorb water like traditional ones.
Compared with other types of PVC materials, the heterogeneous PVC material has good sealing performance between the two layers.
Read more about the applications of homogeneous and heterogeneous PVC here.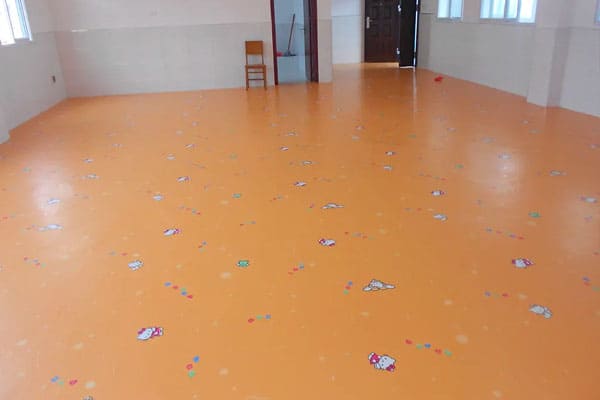 What are the advantages of PVC commercial roll?
Wear resistance
One benefit of using PVC commercial roll is its high wear resistance. PVC has good abrasion resistance, bending strength, tensile strength, and elongation ratio. The wear resistance of the PVC commercial roll can withstand abrasion over a wide range of temperatures and abrasive materials. Additionally, its compression resistance can withstand large strains at low temperatures.
Also, it has excellent heat insulation properties and low permeability. These features can reduce the risk of breakage during transportation and storage. More so, it increases the life of your product and the choice for long-term use.
Compression resistance
PVC commercial roll has outstanding properties, such as rigidity, durability, and good chemical resistance. Because of the inherent elasticity in PVC, the compressive load can be over 10 times that of steel wire. As a result, it will not deform under heavy pressure and withstand high compression force. The compression force can reach as much as 100 tons per square inch (psi) without breaking or deforming during loading or unloading. With an appropriate material and design, you can use it to produce many shapes and sizes in various applications.
Impact resistance
PVC has excellent impact strength and high tensile strength at room temperature. As a result, it is applicable for many base floors that need to withstand heavy loads without breaking or ripping apart easily.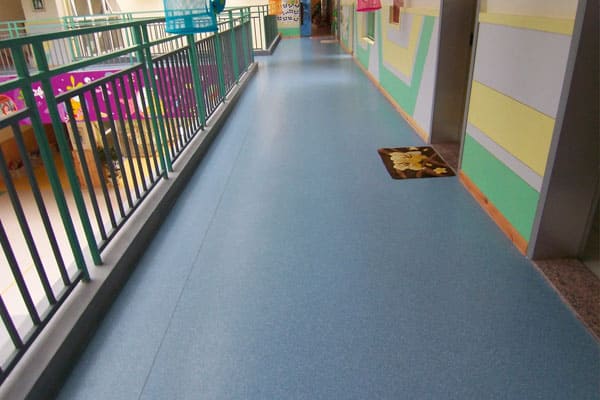 Excellent waterproof performance
PVC commercial roll has excellent waterproof performance, which applies to storage facilities with high moisture content or wet conditions. In addition, the surface of the PVC commercial roll is smooth, which can effectively prevent the leaking of filaments, beads, or other foreign objects during production.
Good flame retardant effect and environmental safety performance
PVC commercial roll has a good flame retardant effect and environmental safety performance. It is friendly to any weather and effectively prevents fire from spreading from one environment to another. Also, it has good water-repellent properties and a good heat insulation effect; therefore, it is safe for use in different environments, such as inside factories, to protect workers' health from harmful rays generated by welding equipment.
Fire and slip resistance
PVC flooring roll comes with a fire-resistant underlay (usually flammable PVC) to protect against sparks or flames. The underlay also protects the surface of the PVC flooring itself from damage by fire. It is also resistant to slip, meaning it will not absorb liquids like water or salt.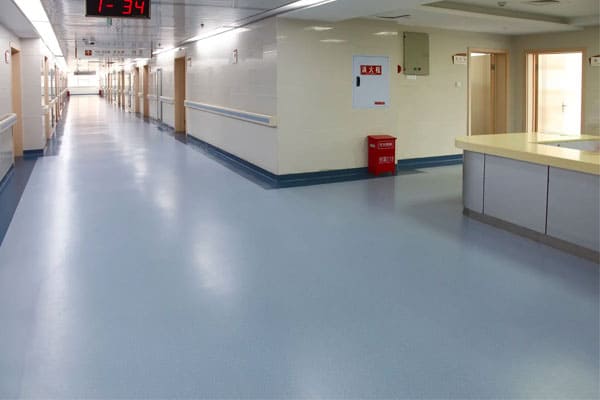 Lightweight
PVC commercial roll is lightweight, easy to use, carry, and transport. It is not only a good choice for interior design but also excellent for indoor use. It also reduces the labor cost of transportation and storage. The difference between the weights of other flooring materials is obvious when you compare them with the cost.
Good flexibility
The flexibility of the PVC commercial roll is adjustable according to your needs and requirements to meet all your needs. For example, if you need something rigid but flexible, you can use a PVC commercial roll because it has great flexibility.
Silent anti-skid
The PVC commercial roll is a kind of anti-skid material that can effectively prevent the roll from sliding on the floor or carpet and reduce noise. PVC commercial rolls are also silent and have low noise, making them an ideal indoor use choice. They are also suitable for applications requiring low noise, such as supermarkets and food stores, which can be noisy because of the movement of the goods on the shelves.
Application
PVC commercial roll is useful in various fields such as sports, education, shopping malls, industry, etc. It has good flexibility, toughness, and weather resistance properties, which are easy to process and can meet different requirements of users. If you like to know more about the applications of PVC, read more here.
Post-maintenance
Post-maintenance is one of the major advantages of PVC commercial roll. The material is easy to maintain and clean, so that you can use it for a long time with no problem. In addition, the paint on the surface of the roll is easy to remove and clean. With this feature, it is easy to maintain the appearance of your work area. You can also use it as a decorative element in your art studio or craft room.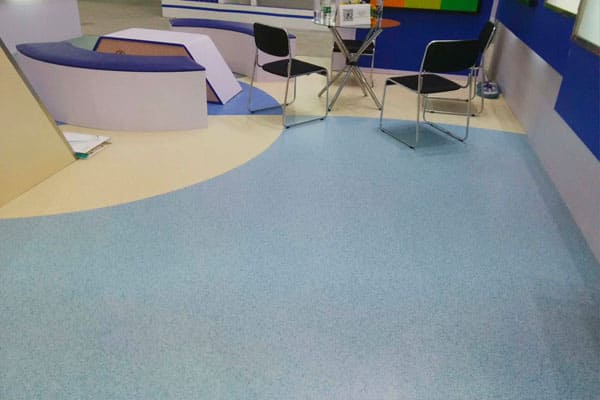 Decorative
PVC commercial roll comes in unique designs and shapes to suit the individual needs of businesses so that they can make their premises look attractive even where there is no illumination or light. For example, the Teeland flooring PVC Commercial roll has many decorative characteristics, such as glossy and matte surfaces, smooth surface texture, and so on.
Antibacterial
PVC is antibacterial compared to other materials, such as wood, because the product's surface has a UV layer antibacterial treatment. As a result, the product has excellent antibacterial properties, suitable for hospitals, clinics, and other medical places.
Price
The price of a PVC flooring system is quite reasonable because of its quality products through continuous injection molding technology. Therefore, it costs less than other materials if you compare the quality with their prices. Therefore, PVC remains the best for you regarding the price-performance ratio. It is also more durable, so you will have to spend less money on repairs and replacements in the future.
Waterproof
PVC flooring is waterproof and will not absorb water or become saturated. It is also appropriate for installation in areas regularly exposed to moisture. The waterproof sealant applied to the entire surface of the PVC flooring system makes it not leak or tear. In addition, this sealant keeps moisture from penetrating the subfloor below, leading to mold growth or rotting problems in your commercial property.
Easy Installation
PVC commercial flooring is easy to install, even for those not used to working with it. In addition, this material has various finishes that you can easily blend to create a custom look for your business or facility. This flooring option is also attractive for many businesses to install because of its ability to provide both durability and style at a reasonable price point.
Customizable
The material is easily customizable, so you can create any design you want. For example, if you want to change the color or pattern of your flooring, you must order another PVC commercial roll in a different color or pattern.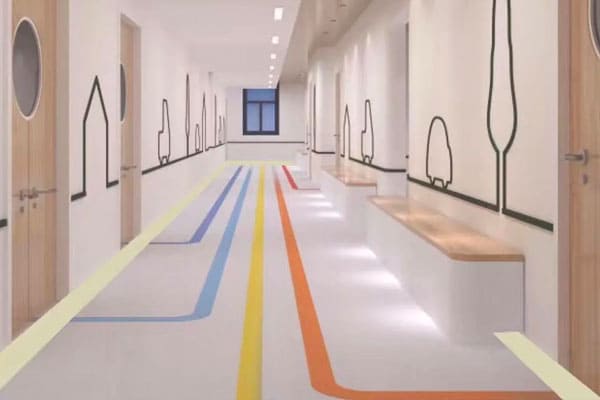 Conclusion
PVC Commercial Roll is a high-quality, cost-effective, and reliable product. You can have it in different sizes and shapes. It also has many advantages over other flooring options. First, it is more durable, flexible, and environmentally friendly because it does not contain chemicals. In addition, it does not contain any toxic materials that harm your health or the environment. Lastly, recycling the product after its end life cycle is very easy.