The vinyl sheet that you select for your project is very important. You want to make sure that it will last and that it has the features you desire. There are many different types of vinyl flooring sheets, but there are two main categories: homogeneous vinyl and heterogeneous vinyl. In this blog post, we will explore what these terms mean and how they affect your vinyl flooring selection process and help you create a healthy indoor environment.
What is vinyl flooring sheet and what are the benefits of using it in your commercial place?
1)What is vinyl flooring sheet?
Vinyl sheet flooring is a type of flooring that is made from vinyl. It is durable and easy to clean, making it a great choice for commercial areas. Additionally, vinyl sheet flooring can be installed over most existing floor surfaces, making it a versatile option for any space.
If you are looking for high-quality floor coverings that is easy to install, vinyl sheet flooring may be the perfect choice for you.
2)The benefits of using the vinyl floor coverings sheet in your commercial environments place?
-Vinyl sheet floors are available in several patterns, which can be customized to fit your space.
-Vinyl sheet floors are easy to clean and maintain; all you need is a damp cloth and some warm water.
-Vinyl sheet floors are durable and can last for years with proper care.
-Vinyl sheet floors come in a variety of colors, so you can find the perfect one to match your decor.
-Vinyl sheet has the characteristics of compression and abrasion resistance, so that the surface of the product is not easy to wear.
What is the difference between homogeneous sheet and heterogeneous sheet , and which one is right for you?
1)What is homogeneous vinyl sheet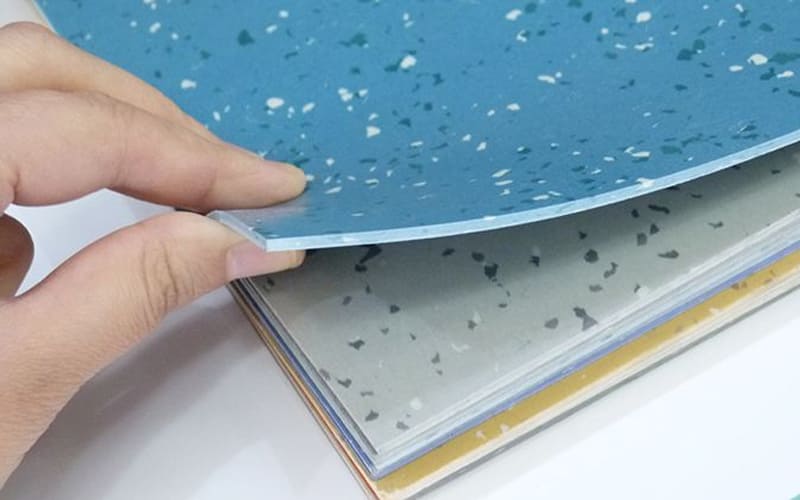 -Homogeneous vinyl flooring is made of one type of material .Homogeneous sheet is single layer,and it has a solid, uniform color and pattern throughout the entire tile.
Homogeneous sheet are durable and stain resistant but may be more expensive than heterogeneous sheet due to their added durability. For example, homogeneous sheet flooring that holds up against heavy foot traffic would definitely be more expensive.
2)What is heterogeneous sheet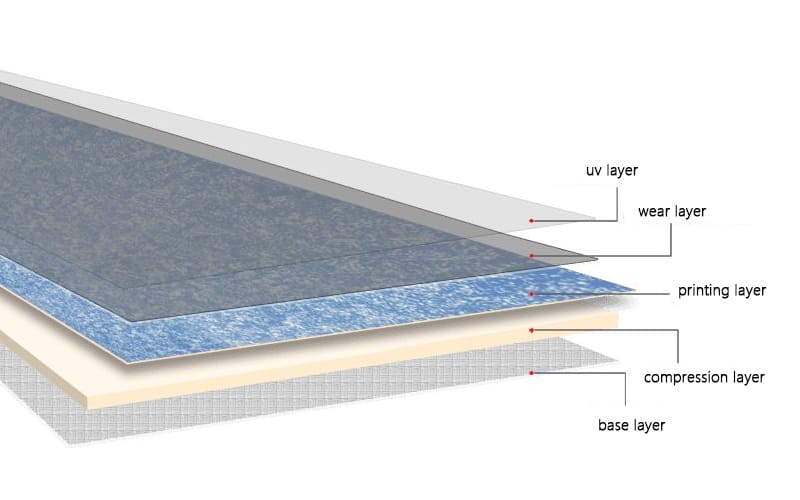 -Heterogeneous vinyl sheet flooring has a multi-layer structure, generally composed of 4 to 5 layers laminated,including wear layer (including UV treatment), printing layer, glass fiber layer and so on.
The wear-resistant layer is the most important part of heterogeneous vinyl sheet flooring because it determines the life of the product. Heterogeneous tiles are less expensive than homogeneous tiles but may not be as durable.
Which type of vinyl flooring to choose depends mainly on the scene you want to apply,for example, operating rooms , schools, educational settings,laboratories and other public places are not suitable for installation of heterogeneous tiles because of the low wear-resistant layer.
In general, homogeneous vinyl sheet flooring is more durable than heterogeneous vinyl sheet flooring.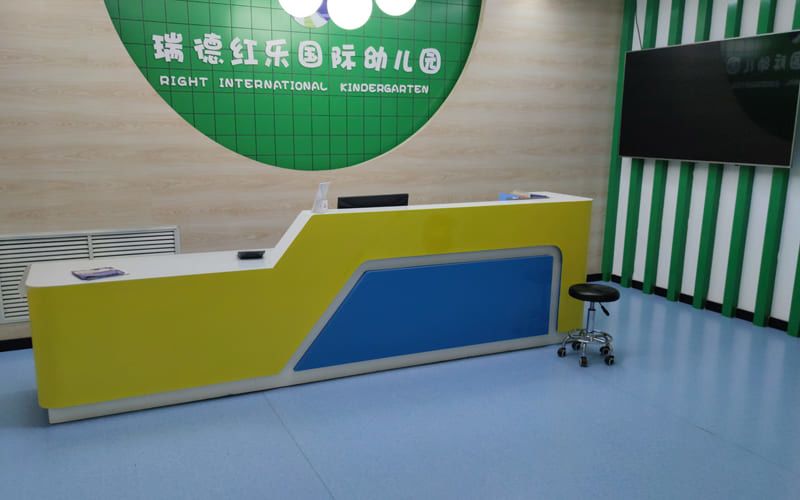 As a rule, homogenous sheet offer better sound absorption properties while heterogeneous offer better slip resistance. This means that if you have an area where there's often lots of traffic noise , homogeneous sheet flooring would be a better choice as it will help to muffle the sound.
However, if you have an area with wet surfaces, heterogeneous vinyl sheet flooring would be a better solutions as it features a more slip-resistant surface.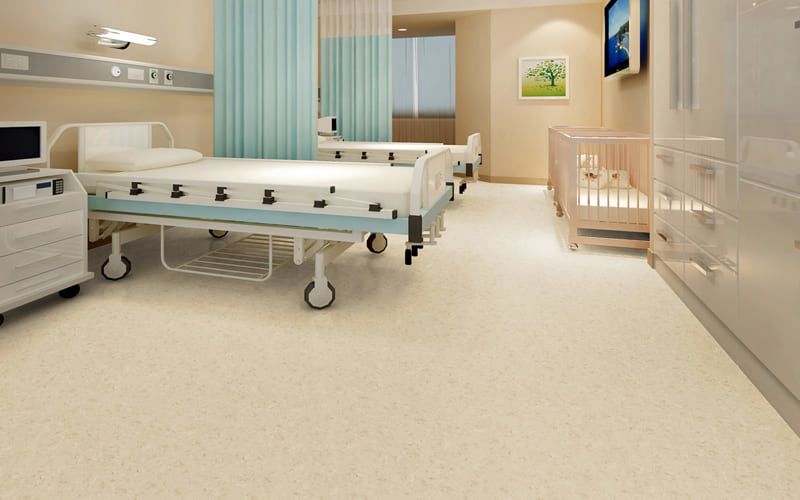 In conclusion, both types of vinyl sheets have their own benefits and drawbacks.They all have low maintenance costs.
How do you install vinyl sheet flooring, and what kind of maintenance does it require to keep it looking its best for years to come?
Installing vinyl sheet flooring is a relatively easy process that can be completed in just a few hours.
The first step is to remove any existing flooring and prepare the surface for installation. Once the surface is ready, you can begin laying the vinyl sheets down one at a time.
Make sure to press each sheet firmly into place, and then run a rolling pin over the entire floor to ensure that every piece is secure.
The final step requires adding any trim pieces you choose, and then using a damp cloth with warm water on it to wipe down the surface of your new vinyl sheet floor!
As for maintenance, just follow these simple steps:
-Sweep or vacuum regularly so that dirt and dust don't build up on the surface of the vinyl.
-Wipe down with a damp cloth every few weeks to remove any spills or stains.
-Replace any damaged tiles as soon as possible to avoid further damage.
With proper care, your vinyl sheet flooring will look beautiful for years to come!
Where can you find affordable vinyl sheet flooring that will complement your existing décor perfectly?
If you want to wholesale vinyl sheet, there are many brands to choose from,for example , Armstrong, Mannington, Gerflor and so on. If you want to import, I believe Teeland can provide you with more solutions.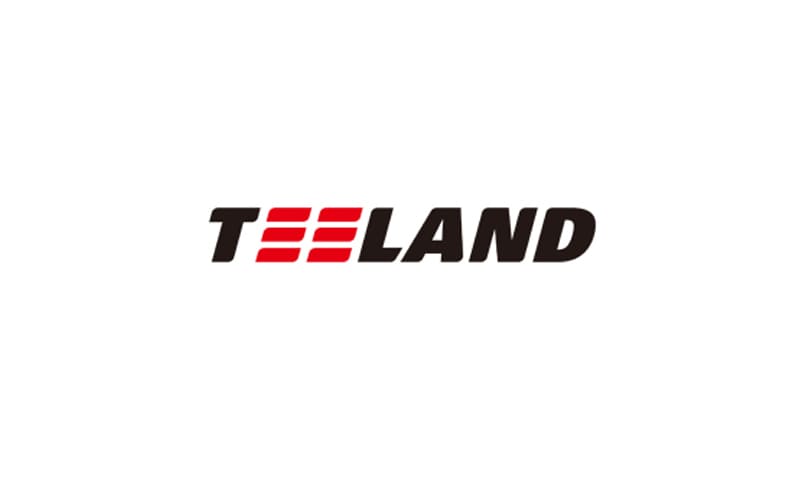 There are a few things you'll want to keep in mind when choosing affordable vinyl sheet flooring that will complement your existing décor perfectly.
The first is the color and pattern of the tile- be sure to choose one that will blend in well with your current design scheme. You'll also want to make sure that the texture and finish of the tile matches the look you're going for.
Another thing to consider is the type of vinyl sheet flooring- heterogeneous or homogenous.
Are there any potential drawbacks to using vinyl sheet flooring in your place or office space, and if so, what are they?
In general, vinyl sheet flooring has a optimal performance for commerical places because it's incredibly durable, easy to clean, consistent appearance,and relatively affordable. However, there are a few potential drawbacks that you should be aware of before making a decision.
First, vinyl sheet flooring can be difficult to install properly, so it's important to hire a professional installer. If installed improperly, the seams can crack or lift and it may buckle under pressure.
Second, vinyl sheet flooring can be a bit slippery when wet, so it's not recommended for areas where there is a lot of water or moisture.
Finally,the vinyl sheet floor is very afraid of cigarette butts burning, and also very afraid of sharp objects scratching it, so that should be taken into consideration when choosing a flooring material.
Overall, vinyl sheet flooring is a great option for commerical places, but it's important to weigh the pros and cons before making a decision.
The above blog, we hope to help you answer the difference between the two and help you make a choice and better understand what solutions to expect with your purchase.