Vinyl flooring, also known as PVC, is among the most used hospital flooring options. The reason is simple: vinyl satisfies the stringent flooring requirements for hospitals. And even the sanitization, maintenance, and safety measures.
Most healthcare facilities use vinyl flooring because of how durable they are. Vinyl has long-lasting, sturdy, safe, shock-absorbing materials. Wherein they reduce noise and are comfortable to walk and run on. Even with hectic 24 hours busy days, vinyl flooring will still perform well. Hospitals too need regular cleaning, but other floorings are unsuitable for thorough maintenance. In the case of vinyl—they can withstand the high level of necessary sanitation.
As you go through the article, I will discuss further the benefits of vinyl flooring in hospitals. I will also mention its types, characteristics, materials, and application area. Also, you will know how different our vinyl products are from others.
What Are The Common Types And Characteristics Of Hospital Flooring?
There are many types of vinyl floorings available in different healthcare facilities. Their appearances seem the same as you pass through them. Yet the materials and performance are distinct. So, let's discuss one-by-one what these are.
Luxury Vinyl Tile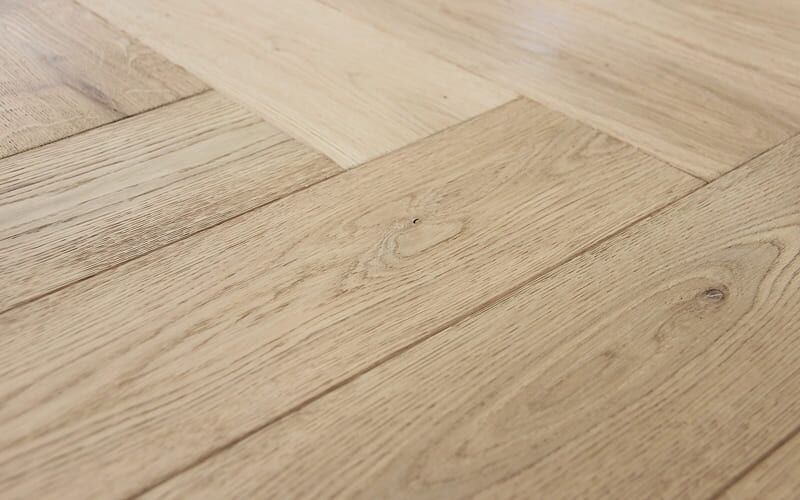 Luxury vinyl tiles (LVT) are a popular flooring material for commercial use. LVT is among materials with competitive and high-level features. They are durable, easy to install, easy to clean and maintain because its waterproof. So the best place to put them is in traffic areas like Emergency Room (ER).
Also, a unique characteristic of LVT is it uses a photographic print process. These 3P's allow many design possibilities like stone, natural wood, and tile.
Thus, hospitals placed LVT in areas that need an elevating vibe. For example, pediatric stations, patient wards, hospital entrances, and nurse stations.
Vinyl Sheet Flooring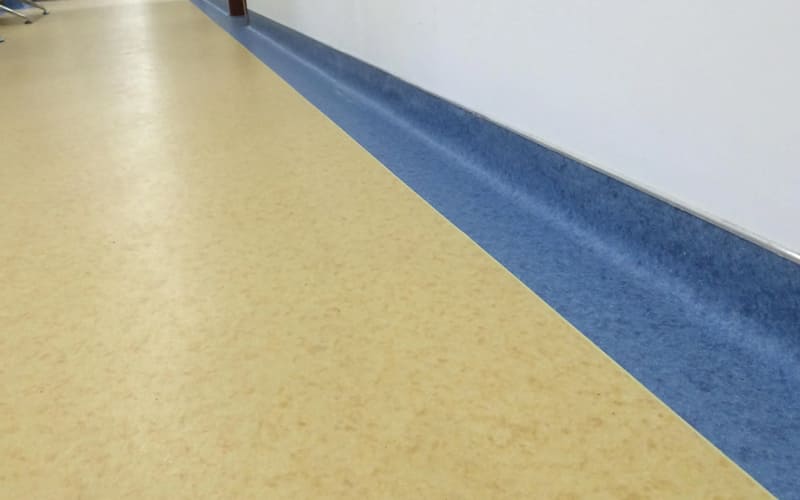 Vinyl Sheet Flooring or sheet vinyl ranks the best among the rest. Many hospitals still choose to use this flooring material because they are effective.
There are two types of Vinyl Sheet Flooring: Homogenous Flooring and Heterogeneous Flooring.
Homogenous flooring has durable materials. It is why they are one of the best floorings for long-term use. These floorings have unique tiling components and clay that can withstand heat. It is fire resistant for this reason since holding up to 1500 degrees C is no joke.
The homogenous sheet is sturdy and water-resistant. It is due to the high-temperature firing process. Also, here are some of the notable characteristics of homogenous flooring:
Easy to maintain.
Perfect for high-optimal foot traffic.
Chemicals and stain resistance.
Resistance to slipping.
Non-porous.
Near-impermeable properties.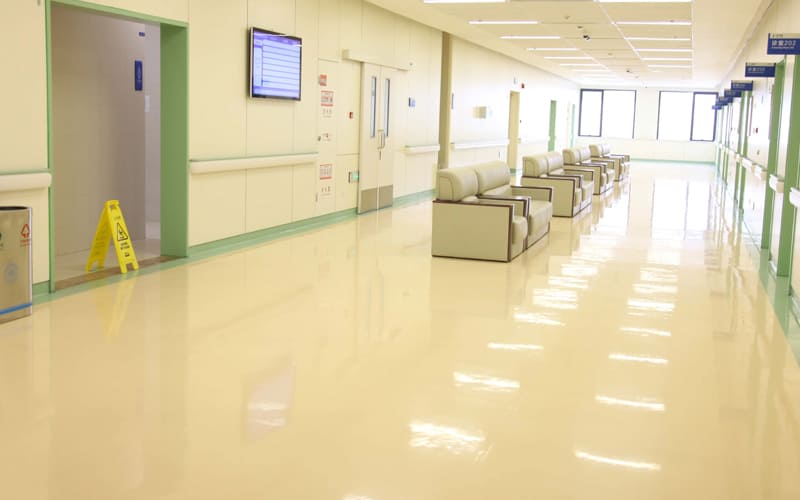 Heterogenous flooring is ideal for places with high foot activity. For example, many used them in public areas, corridors, and wards. Plus, they are not susceptible to damages.
Heterogeneous flooring comes in various elegant and distinctive designs. Its sound quality and unique vibration attenuation capabilities are high. Hospitals use them in Intensive care units (ICU) and outpatient areas. Some of the characteristics of heterogeneous vinyl sheets are:
Waterproof and fire-resistant.
It is antibacterial, antiseptic, and fungicidal.
Easy to maintain and clean.
Slip-resistant and sound-reduction.
Resilient.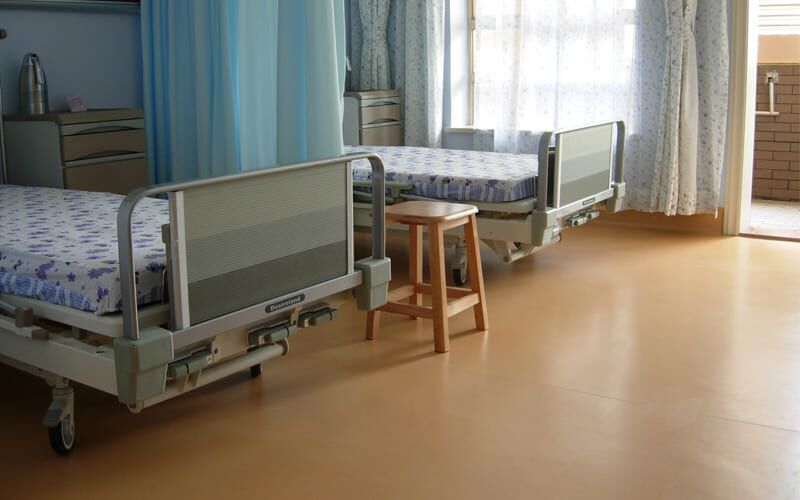 Dubose & Labrador (2010) discovered the two most used vinyl products as healthcare flooring. The sheet vinyl (72.5%) and composition tile VCT (63.6%). This survey noted four priorities that make the vicinity choose vinyl flooring materials. These are aesthetic, durability, sanitization, and price.
Vinyl is more than aesthetic purposes. Yet, it can replicate wood, stone, and granite's natural textures and features. It is worth more than that because their performance, uses, and benefits—make them stand out.
The vinyl sheet's composition materials are long-lasting, rigid, and impermeable. They are often available in 2mm to 3 mm thickness but can still go up to 4mm. Its uniform thickness ensures that these floorings for hospitals will have fewer seams. Making the space have a more consistent appearance.
NSW Health also discusses why vinyl sheet flooring is a must for hospitals. Plus, how profound and desirable material to use in various medical areas. Here are the following:
A big help in preventing infection, bacteria, and widespread contamination.
It is durable and long-lasting to the point that it will have an immaculate appearance for years.
Resistant to water, dirt, oil, moisture, and grease.
They are low-maintenance, for which they are convenient to maintain, clean, and repair.
They have slip resistance, resistance to tension, and shock-absorbing.
It is affordable compared to other vinyl.
Resilient and can tolerate damage.
There is comfort even with extreme movement.
Have an electrostatic control and acoustic control.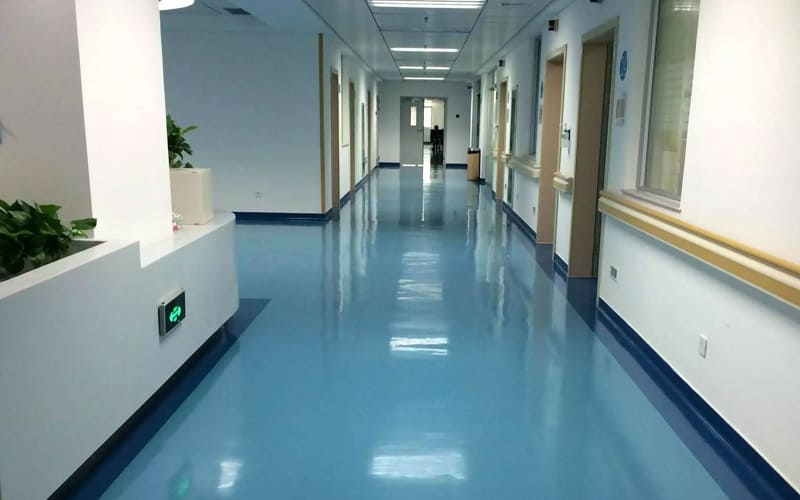 The sanitization process of vinyl sheet floors comes in many ways. So, cleaners and medical janitors can clean fast during hectic days.
They can use a clean damp mop with a neutral detergent, sweep it across the floor, followed by dry polishing. If there are heavy stains, they can use natural chemicals. Or choose a substance indicated by the flooring manufacturer.
Vinyl Composition Tile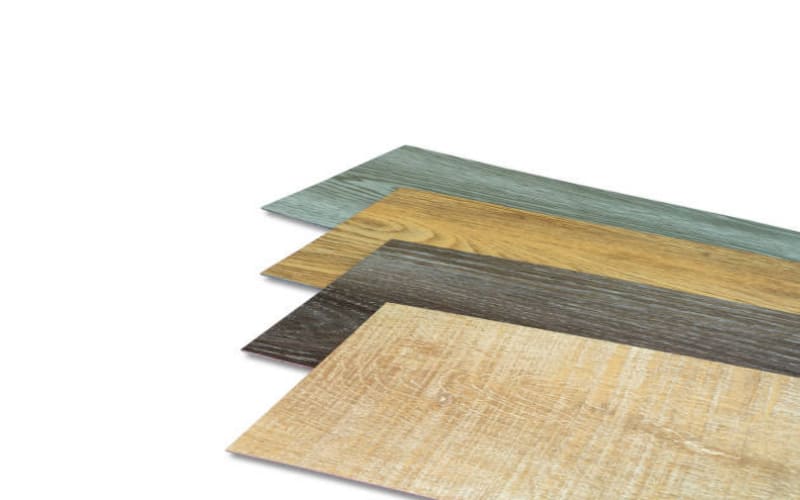 Vinyl Composition Tile or VCT is a type of vinyl constructed with only a minimal quantity of vinyl. Manufacturers make these tiles using fillers, color paints, natural limestone. And adding other porous materials.
These tiles are durable and excellent, but it requires more attention and management. They need regular scrubbing, buffing, and waxing. They are more sensitive to sanitization and thorough cleaning. So, you can expect that it will last less time than the vinyl sheet flooring.
Rubber Flooring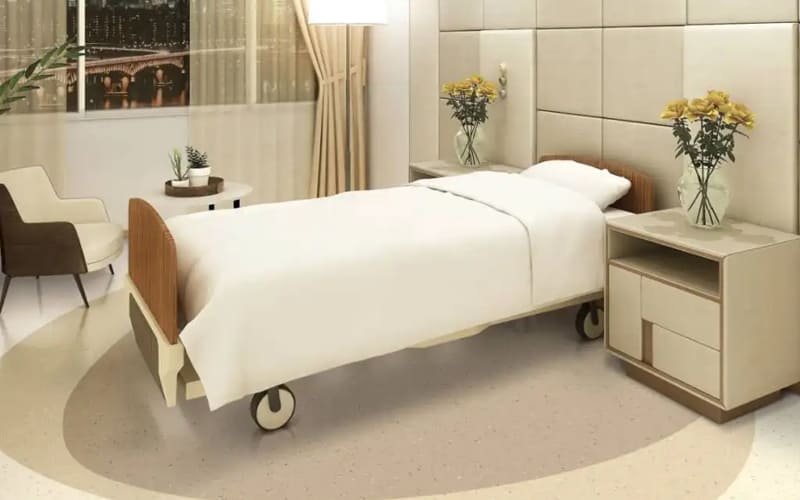 Rubber is one of the choices for hospital floorings but not as popular as the other. Its performance and uses are comparable to vinyl sheets. They are also easy to install, have many designs option, and need little upkeep.
The rubber itself has an enchanting composition. It is durable, has sound absorption, is hygienic, corrosion-resistant, fire-resistant, and water-resistant. Due to its thickness, it allows withstanding even the harshest hospital conditions. Note: its great appearance will still stay.
Rubber is a suitable flooring material, yet it has its downside, such as:
Its price, rubber, cost the price of vinyl sheet thrice. Because of its expensive price putting this in large areas is not an option for many.
It is not long-lasting compared to other materials.
It has a slow drying rate.
When exposed to chemicals, oils, and petroleum liquids, it can generate fire.
What Are The Flooring Materials For Various Hospital Areas?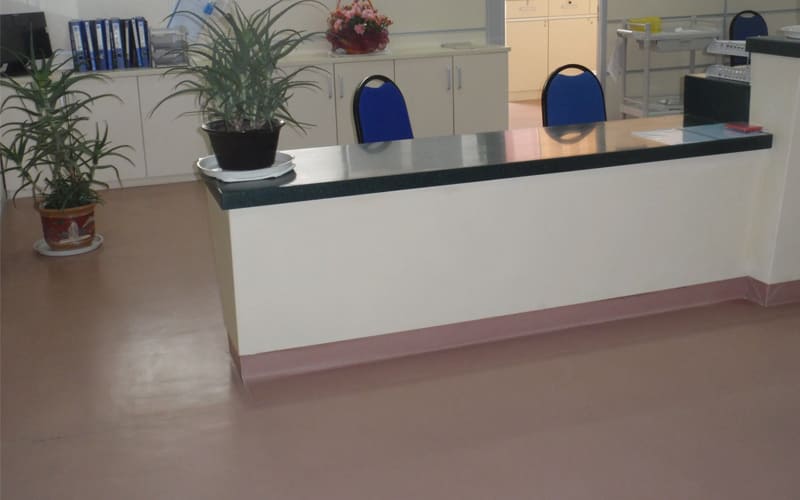 Hospital floors are different in each area of the hospital. It may appear uniform, but its composition, types, and uses are different. So in this section, I will be discussing the different types of flooring materials. Under the hospital areas, it's best used.
Hospital Patient Rooms
The area where patients live should have comfortable flooring. Since patients have conditions, it is best to have sturdy and warm flooring that is pleasing. These floorings options are:
Luxury Vinyl Flooring (LVF)
Vinyl Composition Tile (VCT)
The Homogenous Vinyl Sheet is also perfect for patients' rooms. It has high-performance and low-maintenance factors. It is also safer for patients and enhances the quality of patient care.
VCT is also an option because its durable, affordable, and has noise absorption. Because of these factors, patients will feel at home and get a restful sleep. You won't have to worry about the patients falling because it is slip-resistant. Plus, it's long-lasting. Even if one tile malfunctions, manufacturers and workers can replace it.
Staff Room Flooring
In the same way, how the patients' room should be cozy, the staff room should too. Many employees don't want to go home after a long shift, and sometimes they want to rest from extended duty.
So the best flooring to install in this room is a Homogenous Vinyl Sheet. As I mentioned above, homogenous flooring is for optimal foot traffic. Even with many people walking back in forth in the room, it won't create loud noises. It's also slip-resistance. Even when staff is still sleepy, the risk of slipping and getting injured is low.
Vinyl Composition Tile (VCT) is also an option since it is soft enough for their feet. They also provide noise reduction that helps create unnecessary sounds. For sure, the noise environment won't disturb the staff's rest.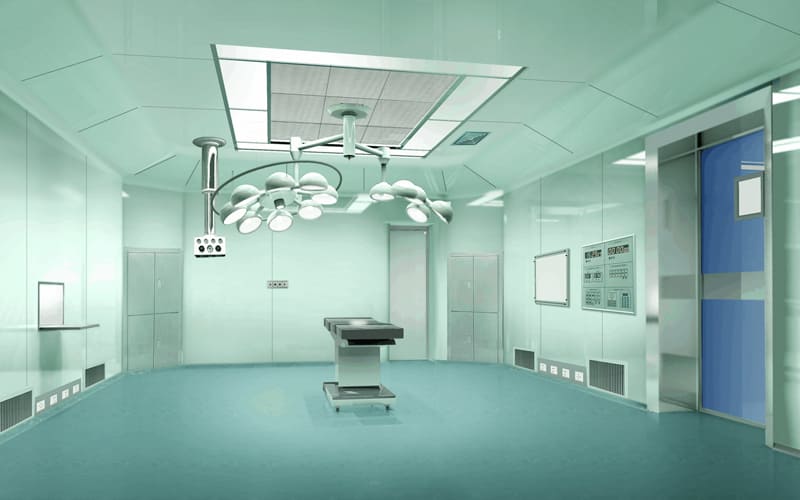 Operating Rooms (OR) And Emergency Areas
OR and ER are critical areas with strict laws and requirements for floorings. Some of these laws and requirements are:
The flooring should be antibacterial and antiseptic.
Can withstand infection control.
It should be durable and robust enough to resist motion. For instance, running and wheeled traffic every day.
Have a high level of hygiene.
I will discuss the anti-static needs since OR and ER use machinery to treat their patients. Because of this hospital uses ESD Flooring. This anti-static flooring is excellent for stopping ESD from accumulating into the surroundings. This ESD will be harmful to people. With an anti-static floor, they can neutralize all the charges from the electricity.
Some of the advisable floorings for these two locations are:
Homogenous Vinyl Sheet Flooring
Luxury Vinyl Flooring (LVF)
Linoleum
Among these three, homogenous is best because it meets all the requirements. Homogenous flooring doesn't allow layers of bacteria to grow. Even if the Doctor drops a pointed tool like a scalpel, it doesn't cut the surface as it falls on the floor.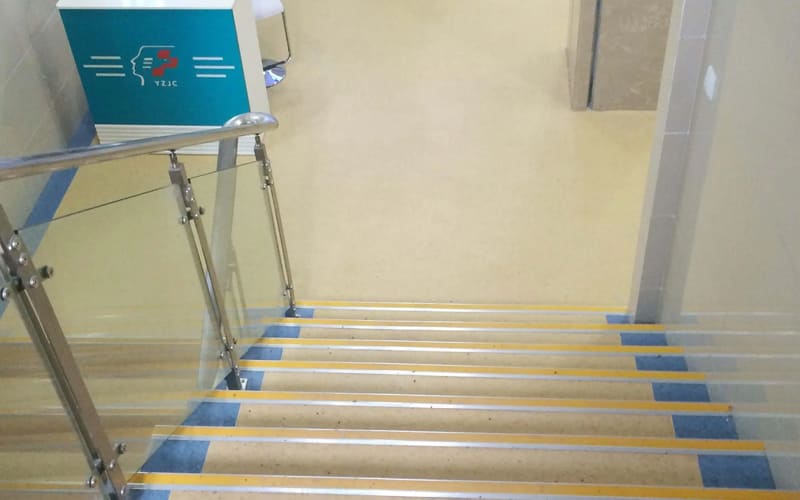 Hospital Entrance And Reception Area
A person will first see the reception and entrance areas in a hospital. These locations are at the forefront of the hospital—that will leave an impression. Yet, it's not only for the aesthetic since many people will run around, stomping their feet as they enter and exit.
It is why it is best to choose appealing, resilient, and long-lasting flooring. The flooring options that meet these requirements are Vinyl Sheet Flooring and LVF.
A vinyl sheet is perfect for entrances because it's waterproof and robust. They can sustain enough movement. You won't have to worry about issues and risks because their materials are adaptable. It is also inexpensive, easy to repair, and low maintenance.
LVF has a wide range of designs that can match the aesthetics of the hospitals. Suppose you want to make it look like ceramic, stone, or wood, then it is possible. Application and installation are also less expensive and work better compared to VCT.
Cafeteria Flooring
You must remember these three things when selecting a cafeteria flooring:
Stain resistance
Slip-proof
Because the cafeteria is an area where people dine and recharge, the vibe must be warm and soothing. Choosing suitable flooring materials that meet this standard is best. At the same time, elevating the atmosphere is best.
There are three suitable flooring materials for the cafeteria:
Vinyl Composition Tile (VCT)
Luxury Vinyl Flooring (LVF)
These floorings have top-notch performance and application while providing varieties of design options.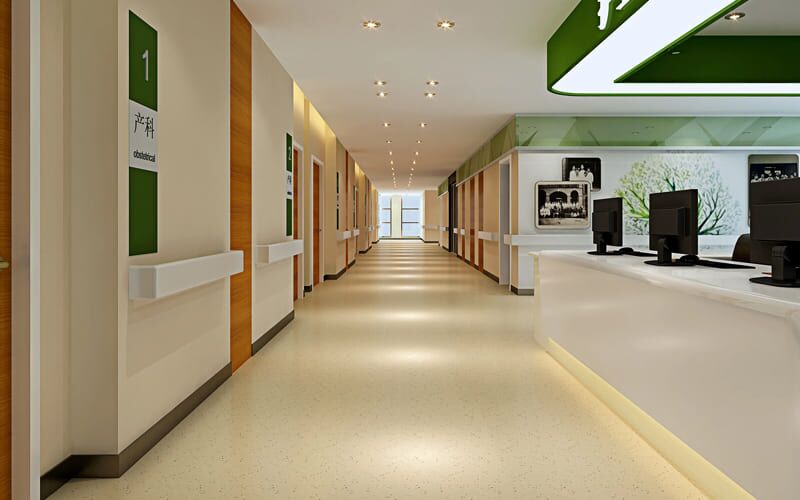 Nurse Station
Most of the time, Vinyl Composition Tile (VCT) and linoleum are standards in nurse stations. These two are easy to install, need little upkeep, lovely interiors, and many designs. Because the nurse station welcomes the patients, it should meet these criteria:
Should have an esthetical aura and decrease tensions
Durable where it can cater to both staff and patients going in and out
Flooring For Hallways And Corridors
Corridors and hallways drive more foot traffic, wheelchairs, medicine carts, and equipment trolleys. Hence, it is not surprising that this area is susceptible to wearing and damage.
Also, you have to take note of the following when choosing a flooring material for these areas:
It needs to be long-lasting.
Remember, you can't shut down the whole corridor and hallways for repairs and clean. So it is best to have a durable flooring material like a Homogenous Vinyl Sheet. It is long-lasting, water-resistant and scratch-resistant, and easy to maintain. It is also slip-resistance, which means even if someone runs around, they will still be on their feet.
Luxury Vinyl Flooring (LVF) and rubber are also suitable among the types we've listed above. It matches all the criteria needed, and you won't have to worry about damages along the way.
Why Is TeeLand Vinyl Sheet Flooring Best Of The Best For Hospitals?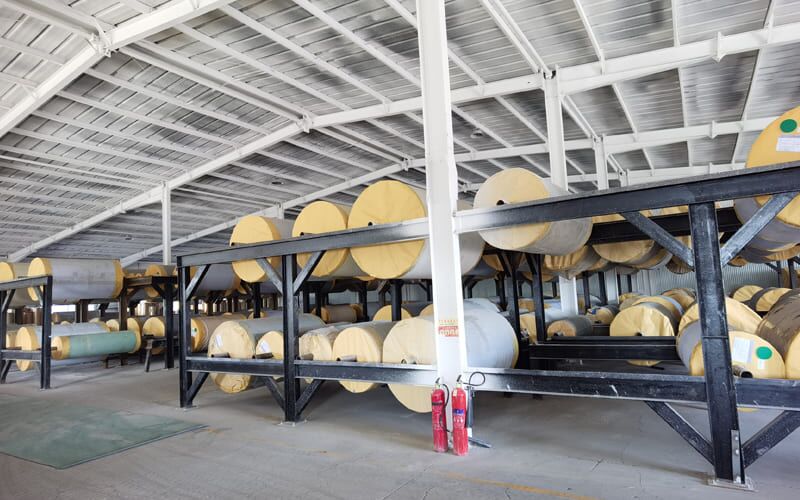 TeeLand is a known China manufacturer that specializes in vinyl floorings. These products are high-quality, durable, withstand damages, and last long. Among their products is the Vinyl Sheet Flooring. In which it's perfect for industrial and commercial use, such as hospitals.
Durable And Resilient
As mentioned above, durability is an essential factor for every hospital location. Because the hospital is busy, you should expect that the floorings will be subject to damages. These damages are stains, dirt, and scratches.
Changing the floors and maintaining have a high cost, restraining the budget. The good thing is—durability is a trademark to all vinyl sheets from TeeLand. Your vinyl flooring will last longer with proper application, installation, and maintenance. Don't worry, as you avail products from us; we have an application kit for on-site and online.
Easy To Maintain
Hospitals are sensitive to dirt and bacteria, so they are critical for hygiene. It is vital to have flooring that won't need polishing or repairing every time.
The best flooring for that is a vinyl sheet. You only need a damp mop with antibacterial detergent, and the flooring will be good as new.
Safety And Comfort Ability
Imagine if you're walking back and forth, causing your feet to strain. It's not a good thing, especially for doctors, nurses and staff. It is why vinyl offers a pleasurable experience. It's comfortable and soft, unlike any other.
It is enjoyable and can help reduce the stress on your feet. It also reduces noise that won't create loud noises that can disturb patients and workers. Plus, they are slip, slide, and accident safe.
Aesthetic Looks
A hospital is a place of healing and treatment and needs a professional appearance. The problem is the design scarcity of other flooring materials. For instance, concrete only has a black color (though it's allowed to coat colors on top).
But with the vinyl sheet that TeeLand floor offers, you have unlimited design options. You can choose many colors, textures, patterns, and thicknesses. If you want to have a natural wood style, marble, or concrete in vinyl, you can think more of our products.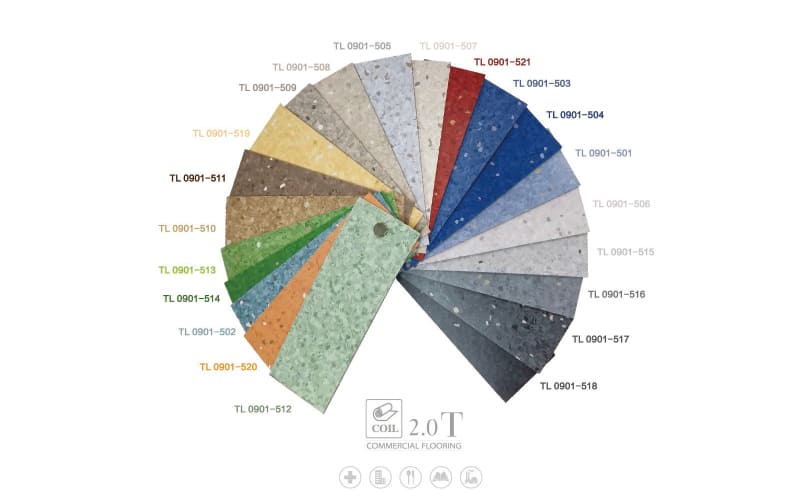 Final Thought
Vinyl Sheet Flooring is among the best flooring for hospitals. Hospitals opted for this one because of how strong it is, the quality is, and how top-notch its performance is. If you're looking to buy a vinyl sheet, then TeeLand floor is an ideal place for you. We offer a variety of vinyl products perfect for hospital needs.
You can send us a message at TeeLand Floor and get a free quote from us. We guarantee that we'll cater to all your vinyl needs. Whether for hospitals, for sport, and industrial markets!