Many flooring options are available with their own set of factors and qualities. Yet, choosing the best flooring type may appear easy, but it is sometimes tricky. Because each room in the office has various functions, one flooring option may not be proper for all.
Which floors you choose will also depend on budget, location, and design. Each of these flooring types has its pros and cons, depending on you and your space needs. But, as per the floor options in the market, one of the best in vinyl flooring.
Vinyl flooring is popular because it is versatile and will function for a long time. Carpets are also an option, mainly for high-traffic spaces, since they are slip resistant and durable. Wood flooring is likewise aesthetic and easy to clean. With these options, choosing which best flooring you can select is confusing. So keep on reading as I have provided guides for you!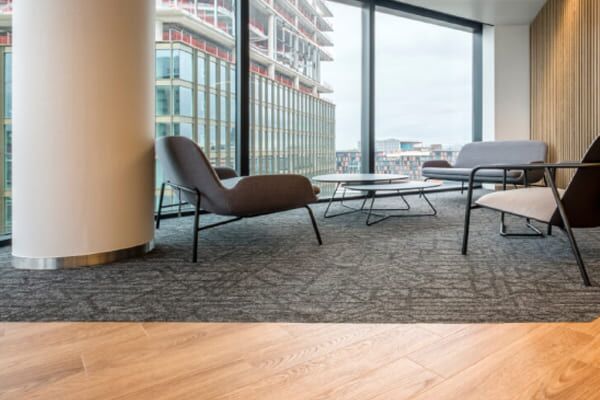 What are the Trends in Commercial Flooring?
Trends when it comes to flooring are often a subject of change. If you need office flooring, these trends can be much more helpful. There are various types of flooring, and the one you choose can create a greater impact on the workplace. That is why it is worth learning about the what and why of the latest flooring trends.
Commercial Flooring in Vinyl Tiles and Rolls
One of the super popular trends today is using commercial flooring in vinyl tiles and rolls. This type of flooring has been enhanced through different technological advancements. That is why manufacturers can replicate the design of your favorite materials such as wood, stone, carpet, etc.
Commercial flooring also contains factors such as ease of maintenance and water resistance. They even give a unique type of performance that makes them suitable for any business space. This floor-type installation is versatile since it comes in rolls, tile, sheets, etc.
Carpet Tiles
Carpet tiles are one of the ideal commercial floorings in today's market trends. These flooring options have become the preferred floor for office spaces because of their qualities. They are notable for being wear-resistant and having excellent durability. They are also great as a sound absorbent floor and slip-resistant.
Carpet tiles are a great type of flooring in the commercial and office setting. They have an impressive home-decor design and long-lasting fiber options. The only issue with this floor is that it is hard to clean and maintain. Suppose we are to replacing the stained or worn sections of carpet costs so much. If you want a cost-effective option, then the carpet is not.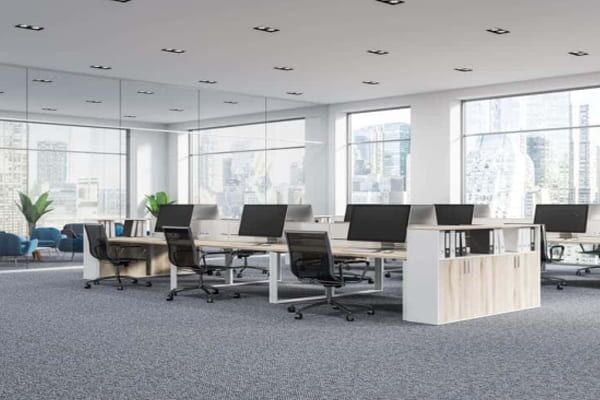 Resilient and Durable Surface
One of the best trends in commercial flooring is resilient and durable floor surfaces. Some examples of these floorings are cork, luxury vinyl tile, rubber, linoleum, and more. Among these options, the best would be luxury vinyl tile (LVT), popular in commercial flooring.
LVT has many color and texture options. Compared to others, this has meager maintenance costs and is easy to clean. They are also ideal spaces or rooms with high foot traffic. The only issue is that it costs more than other surfaces, so it might not fit all the budget.
What are the Flooring Options for Office Spaces?
There are hundreds of flooring options that you can choose from to install in your office spaces. You can choose the best option depending on the area, furniture, and design you want. But, you must note that office flooring needs to be durable, comfortable, and welcoming. That is why I have listed the top options that you can search on, such as:
Vinyl flooring (vinyl sheet, vinyl plank, vinyl tile, LVT, vinyl roll)
Hardwood flooring (different kinds of wood like oak and bamboo)
Laminate flooring
Carpet
What are the Considerations for Commercial Office Flooring?
When it comes to office flooring, you have to consider many things since it is a public space. That means these floors are exposed to high traffic and wear. And because one flooring material doesn't fit the other area, making it hard to choose which is the best one.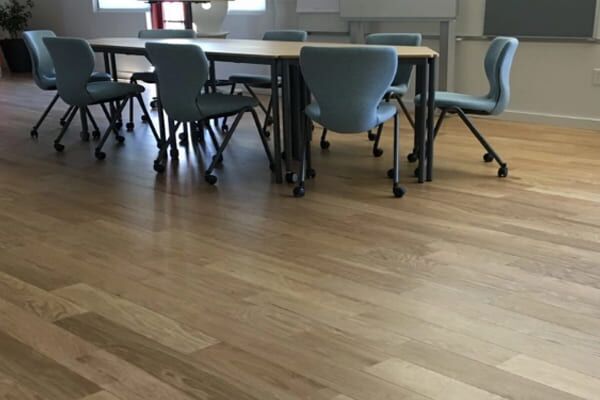 The following are some factors to weigh when deciding on a type of flooring to use:
Durability
The best commercial flooring must be one of the best, quality, and pass standards. Flooring, especially for offices, must be durable and wear-resistant to last a long time. At the same time, the floors should be able to withstand the high traffic daily. It will be a durable office flooring option if it can withstand daily office activities.
Easy To Clean
The best commercial office flooring is the one that is easy to clean and maintain. Both of these factors are suitable as flooring, whether with modern or environmentally friendly offices. And remember, workplaces are busy achieving the task and housing their employees. That is why the floors can experience more foot traffic, dirty floors, and even funky smell.
Low Maintenance Costs
Maintenance costs are among the expenses that burden many workplaces and business owners. They need the best flooring types, but most options are expensive. What's worse is that installing and maintaining it accounts for more costs. You must consider the labor cost to maintain the flooring over time.
Sound Absorbent
People run around or walk all over the place when the office gets busy. When this case happens, it will be uncomfortable and a hassle for the workers. That is why you need to consider whether the flooring is absorbent to the sound.
Comfort
The more comfortable the flooring materials are, the better, especially for office spaces. Every worker wants to be able to work yet feel comfortable, even in their seat. This level of comfortability affects the productivity of the workers. Choosing office flooring options that are hard to sit or walk on will affect your comfort level. So, before installing any flooring, you must test how comfortable it is.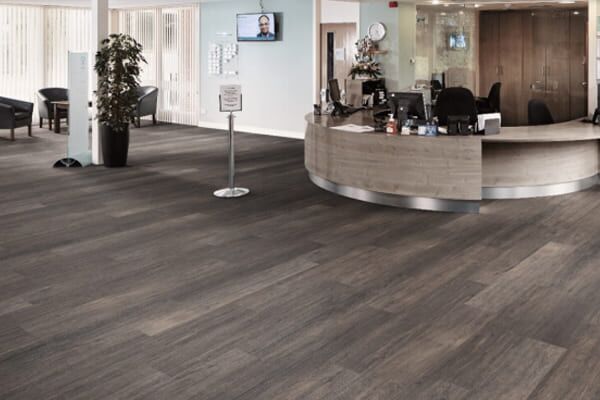 What are the Different Flooring Materials Used for the Office Floor?
There are different kinds of flooring materials suitable for office floors. Your chosen flooring options depend on your office area, budget, and preference. When considering which materials are best for your office, the following will be your bet:
Vinyl Flooring
As I have mentioned, vinyl flooring is one of the most versatile commercial floorings. This flooring is popular because of its durability and long-lasting performance. Even with high traffic levels, they won't wear off quickly. They will also resist scratches, dents, and stains, so maintaining it will be minimal.
Vinyl is also well-known for having excellent slip-resistant properties. You won't have to distress yourself or your workers about workplace accidents. They also come in different styles, colors, and design options to choose from. Among all the commercial flooring, vinyl is suitable for offices, healthcare, facilities, etc.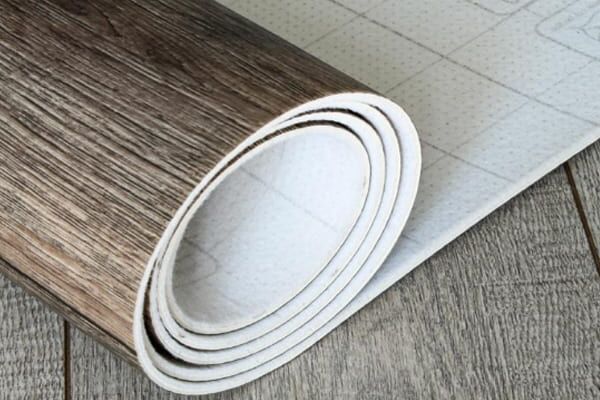 Carpet Tiles
Carpet tiles are the best option for office flooring, especially in tight spaces. If the office areas need sound absorbent and durable floors, carpet is the best option. The carpet will offer soothing comfort and noise insulation. They are also a big help in keeping the space warm and collected.
Another advantage of carpets is that you can replace them easily if there are stains. Although, it is more expensive, especially if there is more damage. These types necessities the needs for more routine cleaning and maintenance.
Laminate
Laminate flooring is one of your options if you want to have wood, stone, or tile design at lower costs. This flooring is affordable and designed to be long-lasting. It has built-in layers that make them resistant to moisture and easy to maintain.
It also has thick surface flooring, making it more resistant to dents, scratches, and stains. They even have UV resistance technology, making it ideal for any outdoor room. It would still look good for a long time and will not fade.
Luxury Vinyl Tile
Luxury Vinyl Tile, also called LVT, is an excellent choice for office flooring. Like any vinyl, LVT is also highly durable and long-lasting. It can withstand high-food traffic without showing the signs of wearing.
Because they can duplicate any design, they are perfect for commercial flooring. You can get a design scheme for luxury vinyl with wood, hardwood, ceramic, and more designs. They also have a simple and easy installation method; you won't have to invest much.
Rubber
Rubber is perfect for high-traffic areas such as offices and business rooms. Compared to other commercial floorings, these floors are versatile and low maintenance. They are also resistant to many things, including heat and water. They also acquire the qualities of being slip-resistant and noise-absorbent.
You can install rubber in many spaces in the office and commercial room. Because they provide soft cushioning, workers and users cannot experience fatigue. They will instead be comfortable.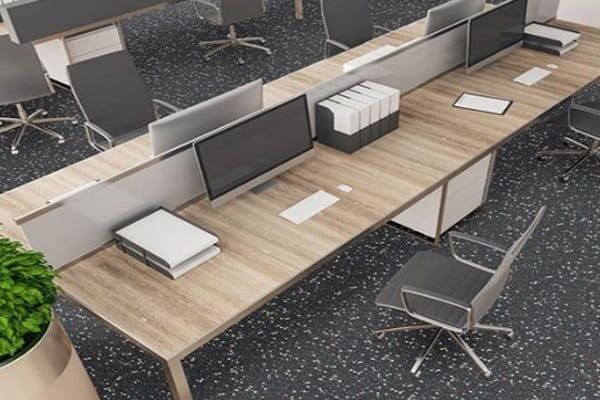 Hardwood Flooring
Hardwood flooring is the best commercial flooring that will last longer than other floorings. They provide an impressive surface style that will fit any room space. You can choose from wood flooring, ranging from red oak to environmentally friendly wood fibers.
The only problem with this flooring is that it is more expensive. These floors are also more prone to cracks, leakage, and cupping. It is also prone to moisture and leaks, damaging the surface over time.
Natural Stones
Natural stones are also an excellent option for commercial flooring. It does provide a classic aesthetic style for the space. The only problem is, it might not be suitable for every office. Because of their material, they are prone to scratch and stain. They also need regular maintenance and cleaning to make them more appealing.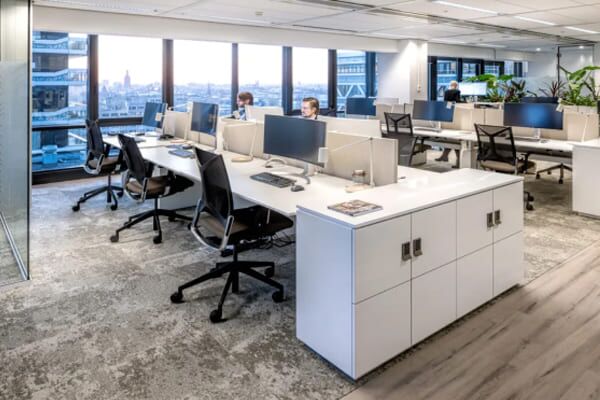 What are the Benefits of Using Vinyl Sheet Roll as the Flooring Option Installed in the Office?
Vinyl flooring, specifically vinyl sheet roll, is one of the most acceptable options for offices. This flooring type has a versatile and adaptable option. You can use this flooring as an alternative for other expensive floors.
In addition, when you utilize these products in any commercial space, you can get the following benefits:
Durability: Vinyl sheet roll is one of the most durable floorings on the market. This material is solid and resistant to heavy traffic and water. They can also last for more than ten years with regular maintenance and cleaning.
Low Maintenance: This type of vinyl requires very little upkeep. This floor is easy to clean without the need for constant touch-ups. You can use a mop, water, or detergent mix to clean the floor. For a long time, they will appear good as new.
Easy to Install: Vinyl is a type of flooring that is easy to install. You don't need a professional to help you as you can do it yourself. Follow the guide provided; clean the floor, lay down the sheet, and double-check if the vinyl is dry.
Water-resistant: Vinyl is an excellent option for high-moisture and wet areas. You can put this flooring in your bathroom, kitchen, office, or rooftop.
Cost-saving: If you're looking for a budget-friendly flooring option, vinyl is for you. Vinyl provides unlimited benefits and a broad range of designs. As a more affordable option, you can get this vinyl flooring that mimics the structure of luxurious floors.
Various colors and patterns
What are Vinyl Sheet Roll Flooring Features as the Type of Flooring in the Office?
Like other vinyl, vinyl sheet roll contains different features that make them durable floors. If I compare this type of flooring with others, vinyl sheet is more durable. The reason for this is because of the process of creation wherein there are multilayers of vinyl.
The vinyl sheet roll is also cheaper, especially if you want to cover a large area. Depending on the manufacturer, you can get for half the price compared to planks or laminate. This sheet roll is also a popular commercial flooring because of its ease of installation.
Other features such as water-resistant and antimicrobial make this type of vinyl notable. They are also resistant to scratches, stains, and even humidity. For this reason, this is a versatile office flooring ideal for secluded rooms, outdoor, or wet spaces.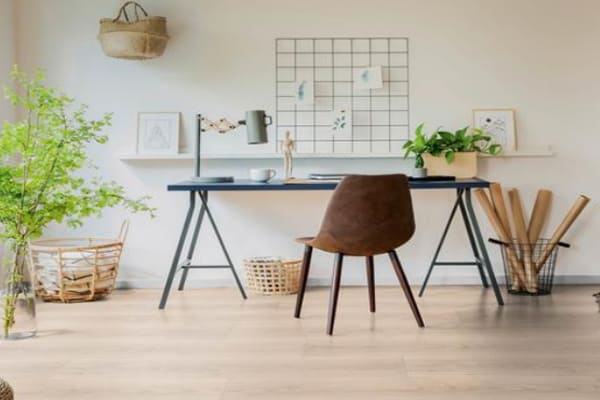 Wrapping Up
TeeLand Flooring is one of the best manufacturers in China that will cater to your commercial flooring needs. We have different types of wholesale PVC vinyl ideal for any space, especially for offices. The top three materials and styles we offer are:
Vinyl Foam Bottom Floor
This vinyl foam bottom floor has layers of laminate flooring and a unique honeycomb structure. This honeycomb structure makes a big difference to the elasticity of the floor. It is also why it can absorb shocks and reduce noise well. And since we focus on creating the bottom floor, we put out a PVC foam material. For this reason, it makes the flooring soft and with good cushioning.
Vinyl Dense Bottom Floor
Vinyl dense bottom floor has no layers at the bottom. For this reason, the flooring has more substantial wear and impact resistance. This floor has features of being resistant to heat and moisture. Because we install it with a glass fiber layer, it will not deform even in a warm environment.
We also include a transparent UV layer, which is the defense of a less damaged surface. We also made negative oxygen ions to this floor so that they would be resistant to fungi, bacteria, and dirt.
Vinyl Homogeneous Floor
Our homogeneous vinyl floor is one of the best commercial floorings. We structure it based on the single layer of materials from every surface. That means the colors and materials will be consistent from tip to bottom. That is also why this floor is highly durable and resistant to wear.
You can contact us if you are interested in availing of our commercial flooring vinyl for your office!
The characteristics of the floor are super hard-wearing and come in a variety of colors