PVC flooring is among the best and considered one-of-a-kind flooring materials. This flooring is versatile, lightweight, and made of high-quality raw materials. Even though it is light, this PVC sheet floor is super solid and durable. We can find this floor anywhere in schools, sports, hospitals, commercial spaces, etc.
PVC flooring is a fantastic flooring that performs best as it is. If you are looking for more reasons why this is a must-buy or considering more options, I got you! I have gathered a list of differences between PVC sheet floors from other floors below.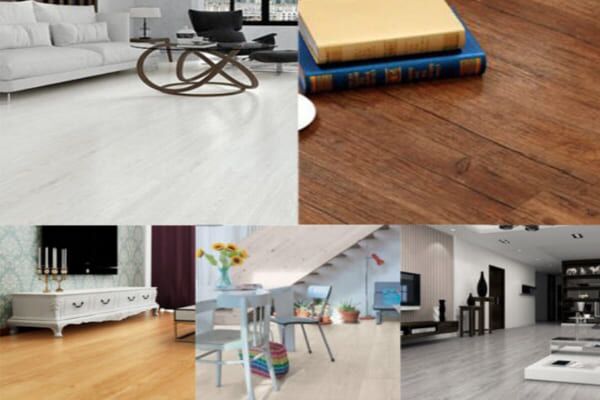 What is PVC floor?
Before we compare vinyl floors with other floorings, let's first get to know its features. PVC floors are synonyms for PVC flooring and polyvinyl flooring. This vinyl flooring is made with PVC, a common material for vinyl flooring. But, it is not only the materials used since it has a mixture of resins, stones, fiberglass, etc.
PVC flooring is also a type of resilient flooring that uses polyvinyl chloride, PVC in short. These characteristics of vinyl live up to how durable and functional they are. Even manufacturers, homeowners, and public places rave about this product's quality. There are different types of vinyl flooring products that you can buy, such as:
Luxury vinyl plank
Luxury vinyl tile
Vinyl tile
Vinyl planks
Sheet vinyl
All vinyl floorings have many layers that result in their characteristics, such as:
The lowest bottom layer is a polyvinyl core.
The second layer is a printed design.
The upper one is a transparent wear layer.
Because of these layers, they will come thick, wear and stain-resistant, and protective. The layers and materials also make a good mix that makes the flooring core firm. They are the best option for consumers because of these characteristics and costs.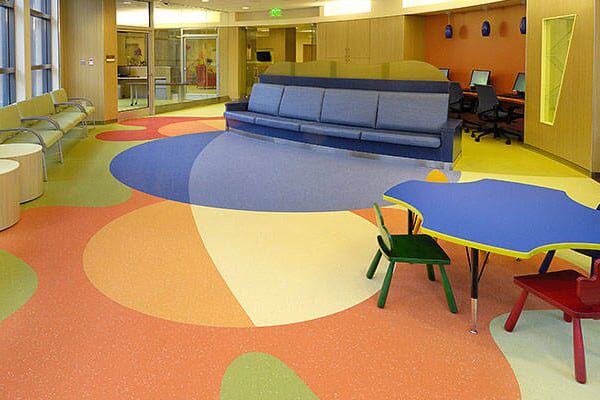 What are the benefits and drawbacks of PVC Flooring?
As I have mentioned, PVC vinyl flooring is one of the best floorings options. It is the rationale why consumers can use it for various locations and purposes. Despite these reasons, consumers still need to think of the benefits of PVC flooring, such as:
They are 100% waterproof and spill-resistant.
The floors are low maintenance and easy to clean.
They are compatible and ideal for use in conjunction with underfloor heating.
There are many flooring colors available.
They can ease fatigue and prevent injuries.
It has good sound-absorption properties.
It is formed using high-quality materials that make it resistant to wear and tear.
It is an excellent option at a low price.
They are easy to install.
In the next part, we will analyze the main difference between one type of PVC floor (PVC sheet) and other floors.
What are the advantages and differences between PVC sheet floor and stone?
There are two types of PVC sheets which are homogeneous and heterogeneous with compact backing and heterogeneous with comfort backing. I also mentioned that the PVC vinyl flooring is excellent as it is. Yet, other types of vinyl flooring and others in the market have similar performance. Among these options is stone flooring, so let's compare them both.
PVC flooring comes in large, continuous, and flexible sheets. Compared to other types of vinyl, sheet floors have solid waterproof properties. It is also long-lasting, adaptable, simple to install, and comes in many styles.
Stone floorings have unique designs and are durable. It is a flooring option that works well with indoor and outdoor spaces since it has different types. These floors have many benefits, such as being adaptable, pleasant, and efficient.
Moreover, here is the comparison of these two based on different elements:
Durability
Both vinyl and stones are long-lasting. It means that you can use them both for many years to come. But vinyl flooring longevity fits various things, while stones are for indoor and outdoor spaces.
Water-resistance
PVC is pretty sturdy and waterproof. It is why they will not absorb any moisture. Wet stones can be slippery. It means that it has a high risk for slips and injuries. The stone materials can also get scratched, stained, and dented often.
Wear-resistance
Sheet vinyl also has the quality of being wear-resistant since this is super durable. This flooring type is made of high-grade raw materials and undergoes rigid testing. It can withstand high traffic and last up to 15 years if installed right. Stone is also durable and robust; the floors will not break even with high traffic.
Slip-resistance
Vinyl flooring is the most effective anti-slip flooring option. This type of flooring is thick, coated, and has a specific texture to provide good traction. These coating and layers also enhance the floor's slip resistance and durability. Stone flooring has a high risk of slipping. It is true, especially if the floor is wet or has some green algae.
Installation
There are different kinds of PVC vinyl, most of which are easy to handle. People without experience can install the floorings themselves in the areas they want. In contrast, stone flooring needs a professional to install. It is heavy and tricky flooring, so average customers may find it hard to DIY.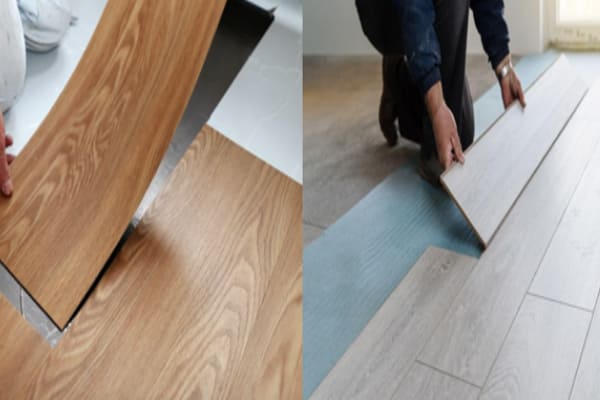 What are the advantages and differences between PVC sheet floors and wood?
PVC flooring and wood flooring are among the many types of flooring that are almost the same. Despite these similarities, we can also distinguish them in cost. PVC vinyl flooring is less expensive, wear-resistant, non-slip, and compressive than wood. While wood is durable, aesthetic, and top-performing, it comes with the highest prices.
These two have more distinctions that I will discuss. It centered on their topics, such as durability, installation, and function.
Durability
PVC vinyl is a durable option perfect for any use and space. The only issue is that they are prone to scratches and dents, lessening their function over time. In contrast, any wood will last long if maintained well.
Water and moisture resistance
One of the best features of vinyl is that it is impenetrable to water. It means that the water will stay at the top of the floor, and the floor cannot absorb moisture.
Installation
Compared to vinyl, wood is hard to install. If you have errors in the application, it can get a pain in the ass and be costly. In contrast, vinyl is easy to install because it is cut and can be glued down together.
Performance Function
Both vinyl flooring and wood are super functional and recommended in sports. Vinyl flooring is long-lasting, comfortable, and versatile so that we can place it in many spaces. This flooring is also comfortable, even with high traffic and movement. It means players would still play without injuries or foot strain for a whole game. Wood is also an ideal playing surface because it improves ball bouncing and lessens the risk of injuries.
Cushioning
Most PVC flooring has cushioning, which gives the benefits of being slip-proof, germ-proof, and waterproof. These floors are also comfortable and soft, so they are perfect for sports, especially for games with high foot traffic. Wood, but is timid and robust. It may still be comfortable for the players, but not as much as PVC flooring.
Cost
Vinyl flooring is an affordable option than wood. This price would be lower if you bought the vinyl floorings in bulk or wholesale.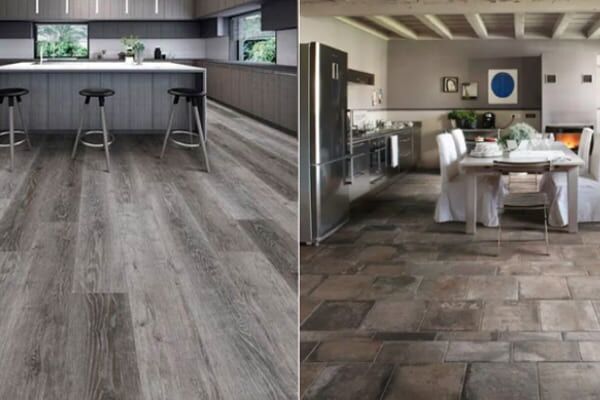 What are the advantages and differences between PVC sheet floor and carpet?
PVC sheet floor and carpet are suitable floorings for different uses and functions. PVC vinyl floorings are ideal for a sports court and commercial places like schools, hospitals, offices, etc. At the same time, carpet is suitable for the living room, bedroom, and stairs.
These two flooring types are one-of-a-kind of their own. But, if we compare these two, we will have gaps in installation and the presence of comfort layers. For installation, carpets provide a simple process yet are time-consuming. You will have to lay out the rug in the space so they will fit. It would help if you also used specialized tools to make the process easier.
PVC vinyl flooring of all types is also easy to install. It is soft and more pliable, so you can work with it even if you're not a pro. But you need to be careful and consider different considerations like the surface. The surface should be smooth and flat so that no flaws will get through.
We can also compare these two about sound absorption and pollution resistance. PVC flooring has to cushion that makes the floor warm and 50% sound-absorbing. It gives comfortable underfoot and warm layers, so it is perfect for commercial and public spaces. The carpet also has excellent sound absorption because it has padding. The thicker the padding is, the higher the level of sound absorption from a carpet.
PVC vinyl flooring is also more pollution resistant than carpet. Carpet can trap dirt, dust, insects, etc., which may be dangerous to children. Easy-to-clean and stain-resistant flooring are best if the flooring's purpose is for a playhouse or baby room.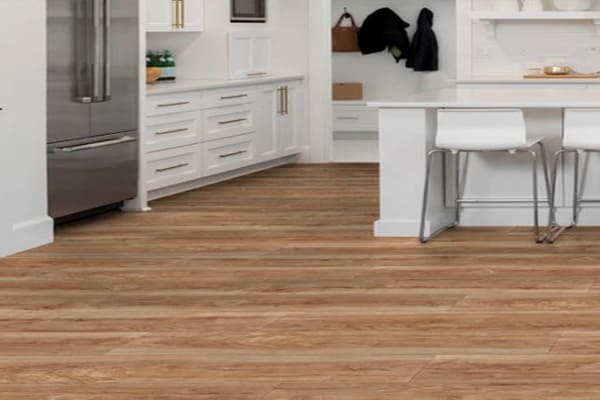 What are the advantages and differences between PVC sheet floor and laminate flooring?
PVC sheet floor and laminate flooring are types of PVC with a big difference. PVC vinyl flooring comes with the main components of PVC. It is a resin mixed with various dyes, filters, etc. At the same time, laminate flooring comes with a dense fiberboard. Then mix with layers of wood or stone, melanin, clear-coat surface, and a photographic layer.
These vinyl floorings offered advantages, as they are available in many high-quality levels. Both these two PVC flooring and laminate flooring come in varieties of features centered on three components:
Aesthetics
The appearance of PVC and laminate flooring are distinct, and you can see their difference. PVC sheet vinyl floor looks symmetrical with random designs, like wood and tile. Laminate flooring has unique shapes and styles like tile, wood, stone, etc.
Durability
When it comes to how long-lasting they are, vinyl wins. PVC vinyl is durable, but they are prone to scratch and dents. Laminate flooring is also sturdy, but after 10-15 years, you need to replace them.
Installation features
The installation of vinyl and laminate floorings are different from each other. PVC vinyl glue-down or peel-and-stick over pre-existing flooring. Laminate flooring used the method of floating tongue-and-groove locking and glue-down over specific floors. These floors are concrete, cork, wood, and foam pad.
Why choose Teeland's PVC vinyl flooring?
The TeeLand company has a wide range of flooring products you can choose to buy. We are your one-stop solution to provide you with all your flooring needs. You can select our floors focused on sports, commercial, and custom ones.
Among the pride products made by TeeLand is PVC sheet vinyl. This type of vinyl flooring is high-quality, thick, and comes in various designs. We can guarantee this will be easy to install, durable, and comfortable. It is also versatile; whatever location, climate, or use, it will look great.
These vinyl floors are also top-performing since our teams made sure to do QC. You will not worry about maintaining them since they will be good even with minor cleaning. All our sheet floors also come off as water-resistant and wear-resistant. Installing these floors will make a significant change in the space.
We have different types of PVC flooring products based on your needs. These floors come from natural materials that will not be toxic to any space. We are sure that all our vinyl floors can meet your demands and requirements for PVC floors.
You can contact us if searching for the best PVC flooring in China. We have a vast type of sports, commercial, and custom flooring that you can pick. Our products are open to all our customers, whether they like it as it is, OEM or ODM. Get in touch with us here.