Badminton is a racquet sport in which two players (singles) or two pairs (doubles) compete in opposite halves of a rectangular court divided by a net. Players get points by striking a shuttlecock with their racquet and directing it over the net and into their opponents' service area.
Typically, matches are best-of-five sets. Badminton is frequently played indoors as a recreational pastime, particularly in schools, universities, and older folks.
As with any other sport, badminton court requires a suitable playing surface. Therefore, it is critical that the flooring is safe and long-lasting; Otherwise, it can detract from the game and even damage players.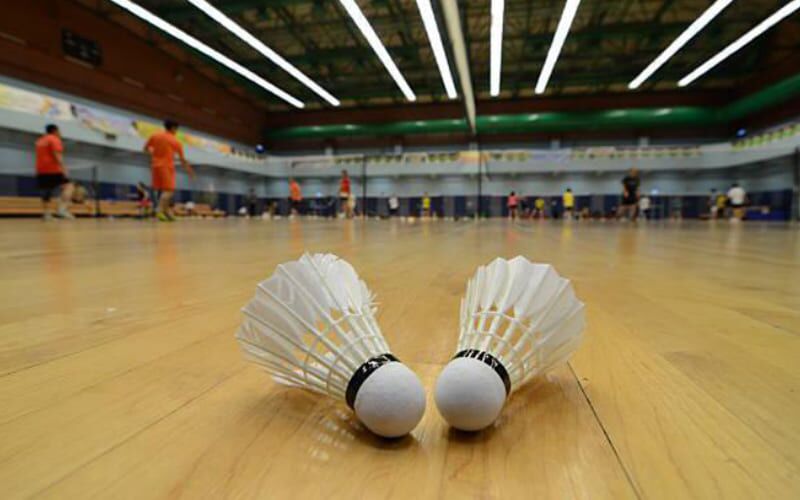 What does BWF recommend for Badminton court?
The Badminton World Federation recommends a wooden sprung floor with a vinyl impact absorbent covering and polyvinyl chloride (PVC) mat for indoor badminton court flooring. Flooring materials used for badminton courts are mostly PVC, not polyurethane. PVC is preferable in badminton tournaments at the highest international level, including the Olympics and World Championships. In addition, the flooring of the badminton courts is subjected to rigorous testing by the Badminton World Federation (BWF) to ensure it meets the highest standards for badminton games.
What flooring is needed for an outdoor badminton court?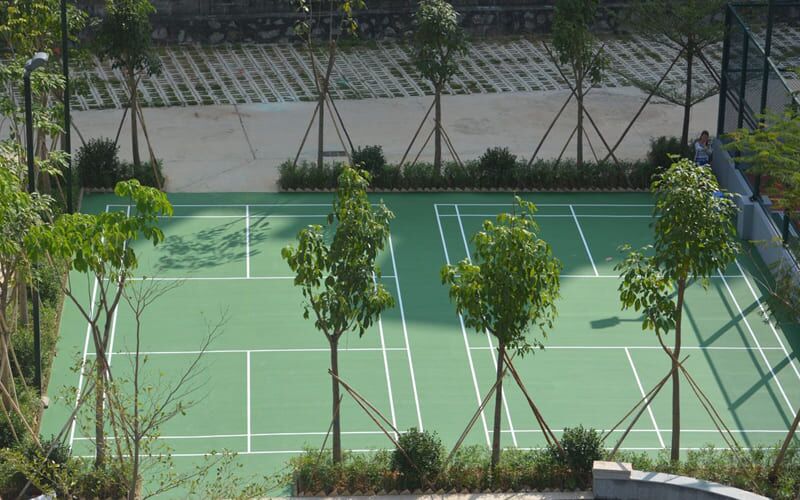 There are three types of flooring for outdoor badminton sports. These are hard, medium, and soft. A hard surface is ideal for fast-paced games, while a smooth surface is better for slow-moving games. A medium character falls in the middle, providing a good balance of speed and control. So, what kind of flooring will you use for outdoor badminton sports?
Natural Flooring for Outdoor Badminton Sports
Badminton is much more popular now, and if you need natural sports flooring for your badminton court, you have all the reasons to feel lucky. However, there are a lot of factors to consider when choosing badminton flooring, as there are various types of badminton floors available.
Wooden badminton court flooring:
Wooden floors are popular for badminton courts. They provide a good balance of speed and control, and they are also durable and resistant to wear and tear. In addition, wooden surfaces are easy to clean and do not require any special maintenance.
Concrete badminton court flooring:
Concrete flooring is ideal for a hard surface badminton court. It is durable and resistant to wear and tear, and it is also easy to clean. However, the concrete floor can be pretty cold, which may not be ideal for some players.
Asphalt flooring:
Asphalt flooring for badminton sports is another option for an outdoor badminton court. It is durable and resistant to wear and tear, and can easily clean with a hose. However, asphalt can be hot, which may not be ideal for some players and international tournaments.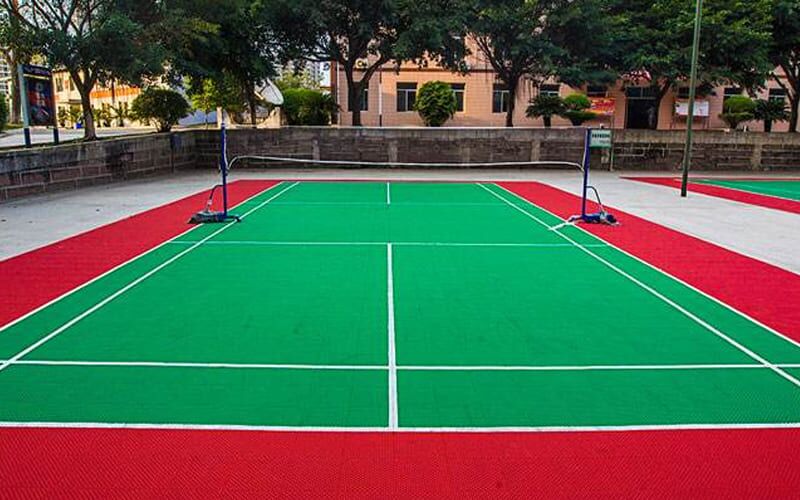 Artificial Flooring for Outdoor Badminton Sports:
Plastic flooring, PP interlocking flooring, is a kind of outdoor badminton court flooring made of PP (polypropylene). It has the characteristics of wear-resisting and anti-slipping. You can use plastic flooring both indoors and outdoors.
The installation of the badminton court flooring is easy, just like assembling the toy bricks, without using any adhesive or tools. You can disassemble the plastic badminton court tile again to move to another place. Also, you can install it over any hard flat surface (such as concrete, asphalt, wood, or metal) or semi-hard surfaces (grass or compacted gravel).
PVC Vinyl Flooring is ideal for badminton courts outdoors. Its performance, as well as its structure, is excellent. Vinyl sheet flooring is very impervious to water and is widely used for outdoor badminton sports because it is impervious to water, durable, adaptable and insulating, simple to install, available in various looks, and economical.
What flooring is needed for an indoor badminton court?
Players' frequency and age group influence the indoor badminton court flooring elements. Wood, rubber, solid material, portable, and polyvinyl chloride are the most popular forms of flooring.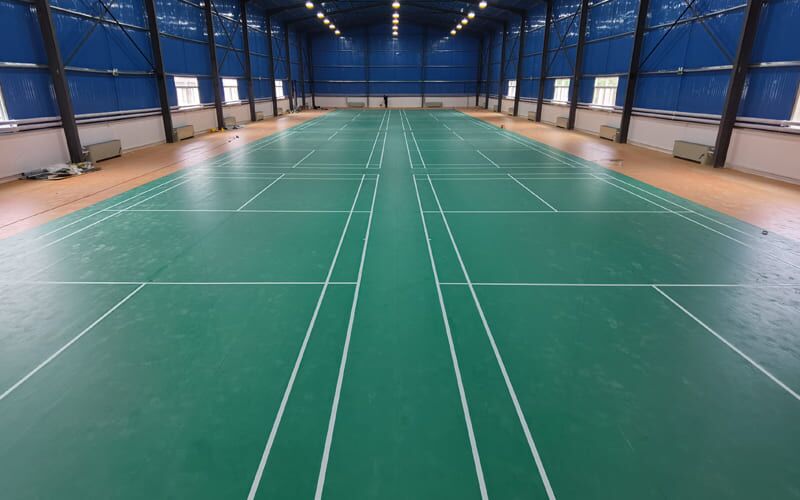 Wooden Badminton Court Flooring:
Wooden flooring has a unique capacity to absorb pressure while being kind to the body. As a result, it provides an excellent playing surface. We typically find this style in advanced sports halls. Local sports federations endorse and also suggest wooden floors.
In addition, Para-badminton players prefer wooden flooring to survive the marks left by wheelchairs and other mobility aids. Thus, players enjoy greater mobility, and management rules can not constrain them.
Rubber Flooring/Mat:
You can use rubber mats to cover the flooring of an indoor badminton court. These floorings include a cushioned natural rubber surface, making them ideal for various activities. Rubber flooring is also relatively easy to maintain and provides enough shock absorption.
Solid flooring:
Solid flooring, such as concrete, screed, or composition floors, can still be seen in older halls. However, this type of flooring is NOT suitable for badminton, as the surface is excessively stiff and can cause injury. In addition, cement courts lack traction and are prone to dust accumulation, which can cause injuries.
However, we can enhance these traditional flooring by putting laminated timber planks over rubber strips or a cushioned sheet material over the existing hard surface.
Synthetic Floors:
A synthetic-floored badminton court is the most popular and well-suited for large-scale events and tournaments such as the Olympics.
Apart from their materials, synthetic floor courts typically have two critical defining qualities: friction coefficient and the mat's thickness. The artificial mat's texture comes in second. There are three types of synthetic surfaces available on the market. However, the vinyl flooring sheet remains the best.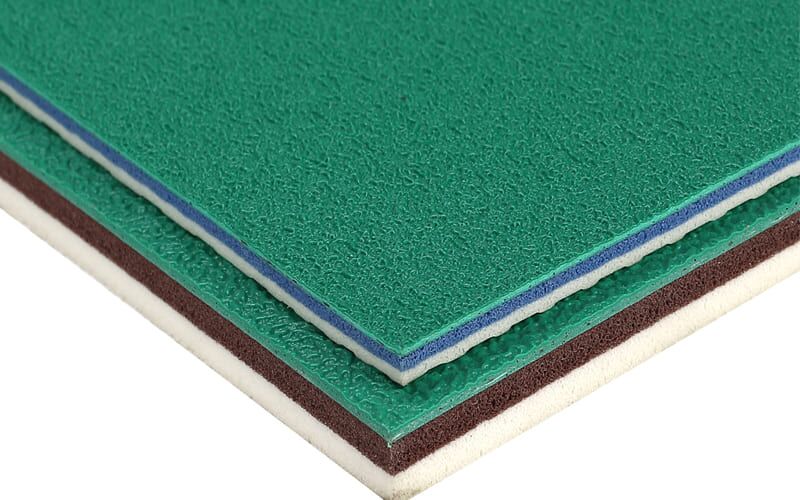 Vinyl Flooring Sheet:
Vinyl flooring is inexpensive when compared to wood or rubber flooring. It is also a versatile and practical choice as it can be installed in any area, even outdoors. Vinyl flooring is ideal for badminton courts because of its water-resistance properties.
This type of flooring comes in different colors and designs that mimic other materials such as wood or stone. As a result, you can use vinyl to simulate a wooden court.
Vinyl flooring is also known for its quick and straightforward installation process. Vinyl badminton courts can be installed with or without glue, depending on the vinyl sheet you choose. In addition, this flooring needs little maintenance as it has high durability and is resistant to scratches and dents.
Where can I purchase the best vinyl sheet flooring for badminton courts?
Teeland's business vinyl sheet is a fantastic opportunity to consider constructing a new badminton court or renovating an existing one. Teeland Industry assists commercial badminton facilities in selecting high-quality sports flooring that can withstand heavy use and wear while maintaining a distinctive aesthetic. Many elements set our vinyl sports flooring apart from the competition regarding appearance, durability, ease of care, and cost. Let us begin!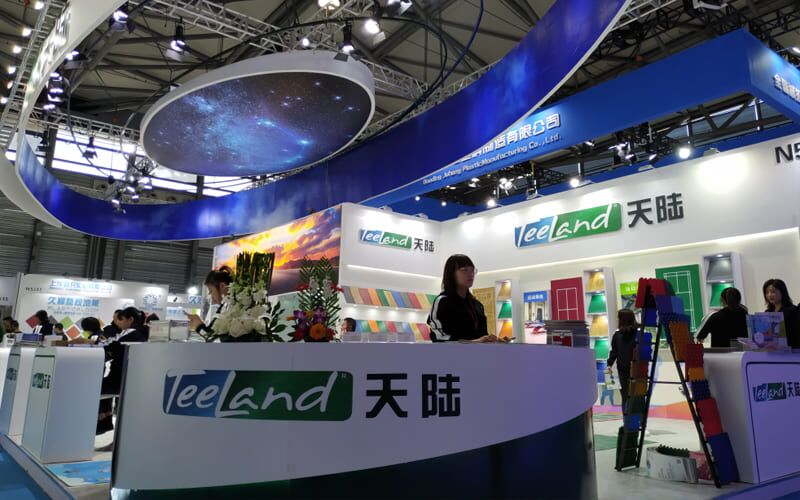 Why Choose Teeland Vinyl Flooring for Badminton Court?
Teeland is a renowned brand of sports vinyl flooring in China, famous for its high quality and durability. Teeland series of sports vinyl flooring is the most popular vinyl floorings used for badminton court, basketball court, and volleyball court. Do you know Olympics games, Asian games, national badminton championships, and other international events use Teeland floorings for badminton courts? It is also widely used in commercial gyms and clubs around the world.
Teeland Vinyl Flooring has a proven track record in numerous badminton courts, and the Badminton World Federation (BWF) has approved it. The Teeland Flooring for Badminton court's design offers excellent shock absorption and reduces stress on players, knees, ankles, and joints. In addition, the flooring system is easy to install and maintain. It's also water-resistant and can be installed with permanent seams or seamless, depending on your requirements.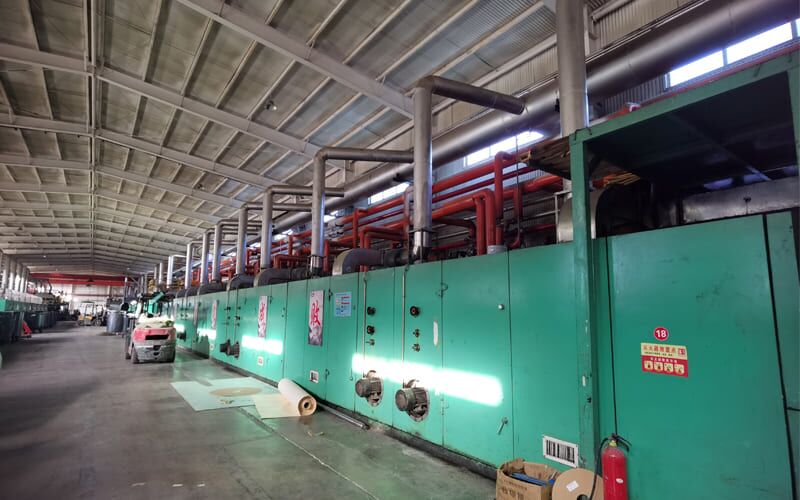 What are the Features of Teeland Vinyl Flooring for Badminton Court?
Teeland vinyl flooring is durable, wear-resistant, shock-absorbent, and easy to clean.
Teeland products are excellent wear resistance, water resistance, and anti-slip properties.
Teeland offers 12 different colors to customize your court and choose something unique. These include Gemstone Pattern, Gravelly Pattern, Hammering Patter, Pomegranate Pattern, Water Cube Pattern, Sandy Pattern specially made for badminton, and lots more.
Teeland vinyl flooring for badminton court is 100% pure PVC non-toxic material.
It is also 100% recyclable and environmentally friendly.
It is suitable for indoor sports areas.
It has a size of 1.8M*15M/Roll, MOQ: 50 Square Meter/Color, and its thickness is 4.5mm/5mm /8mm.
Teeland vinyl flooring is resistant to abrasion and scratches; hence, it can withstand the rigorous use of sports activities such as badminton without losing its appeal.
Teeland vinyl flooring does not fade or discolor over time. It has this quality due to its high UV protection level, ensuring that it remains colorful for an extended period.
To stay on top of your game, you must have a badminton flooring surface that can withstand the high impact of wear and tear from being stepped upon hundreds of times per day. Whether you're in training or a competitive athlete, having sturdy flooring is imperative for staying top of your game. We make our flooring using vinyl, non-marking, and doesn't crack under pressure. Teeland PVC Vinyl Sport Floor is easy to install ensures stability, comfort, and durability. The beauty of Teeland flooring lies in its versatility.
Have questions about our badminton flooring? Call us today at 86-186-3389-6825 or send an inquiry to Teeland Industry's website.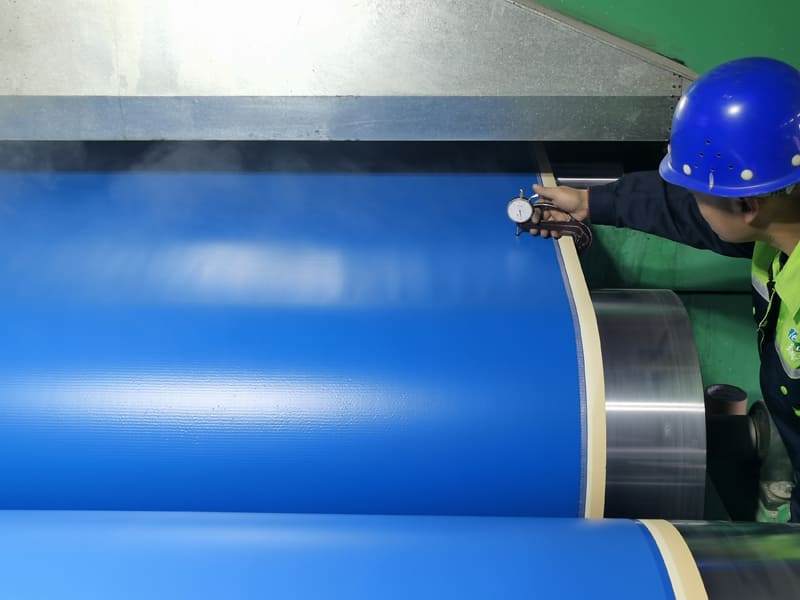 Final Thought
If you look for a vinyl sheet with excellent friction resistance, you should consider Teeland badminton court vinyl flooring. Teeland Sports Flooring is a professional manufacturer of sports vinyl floorings in China. We produce sports vinyl floorings for the following products:
Sports Vinyl Floorings for Table Tennis Court
Sports Vinyl Floorings for Basketball Court
Sports Vinyl Floorings for Volleyball Court
Sports Vinyl Floorings for Dance Room
Sports Vinyl Floor for Tennis Court
Sports Vinyl Floor for Handball Court
Whether installation, maintenance, or use, these products can meet your needs and are worth consideration. We provide free samples so you can review them before buying any product from us! Contact Teelandfloor today to place your order for PVC Sports Floor.